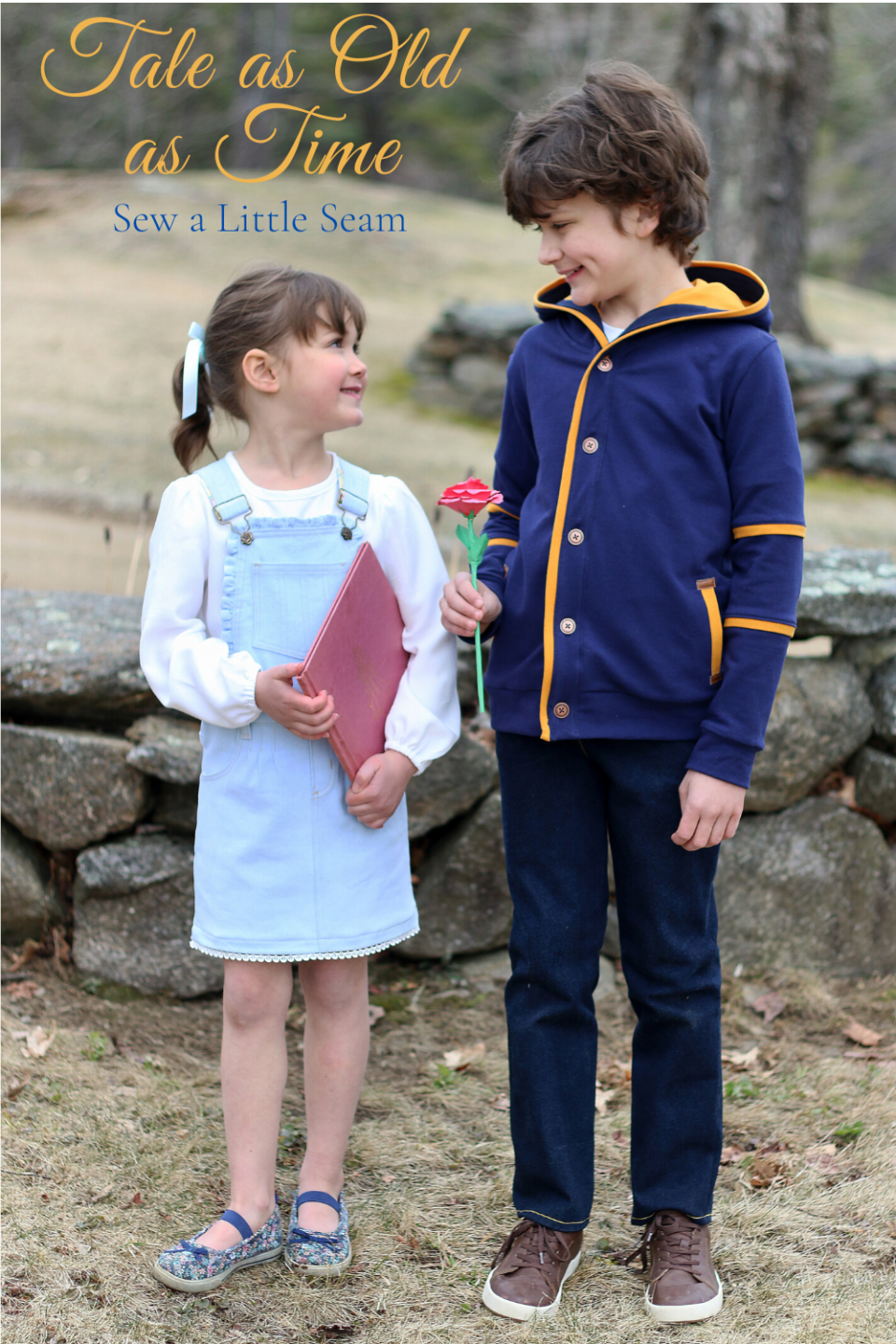 It's Fairy Tale week at Project Run and Play! My favorite week yet! Make sure you head to the Project Run and Play website to vote after you're done reading.
If you know me, you know I'm a big Disney fan, so this challenge was right up my alley. One of my favorites growing up was Beauty and the Beast, so I chose that as my theme, with Belle in her blue dress and Beast in his blue and gold suit. I let Nathan choose whether he wanted to be Gaston or Beast and he chose the Beast, but I had to explain to him that he wasn't going to get a full fur costume. He was a little disappointed.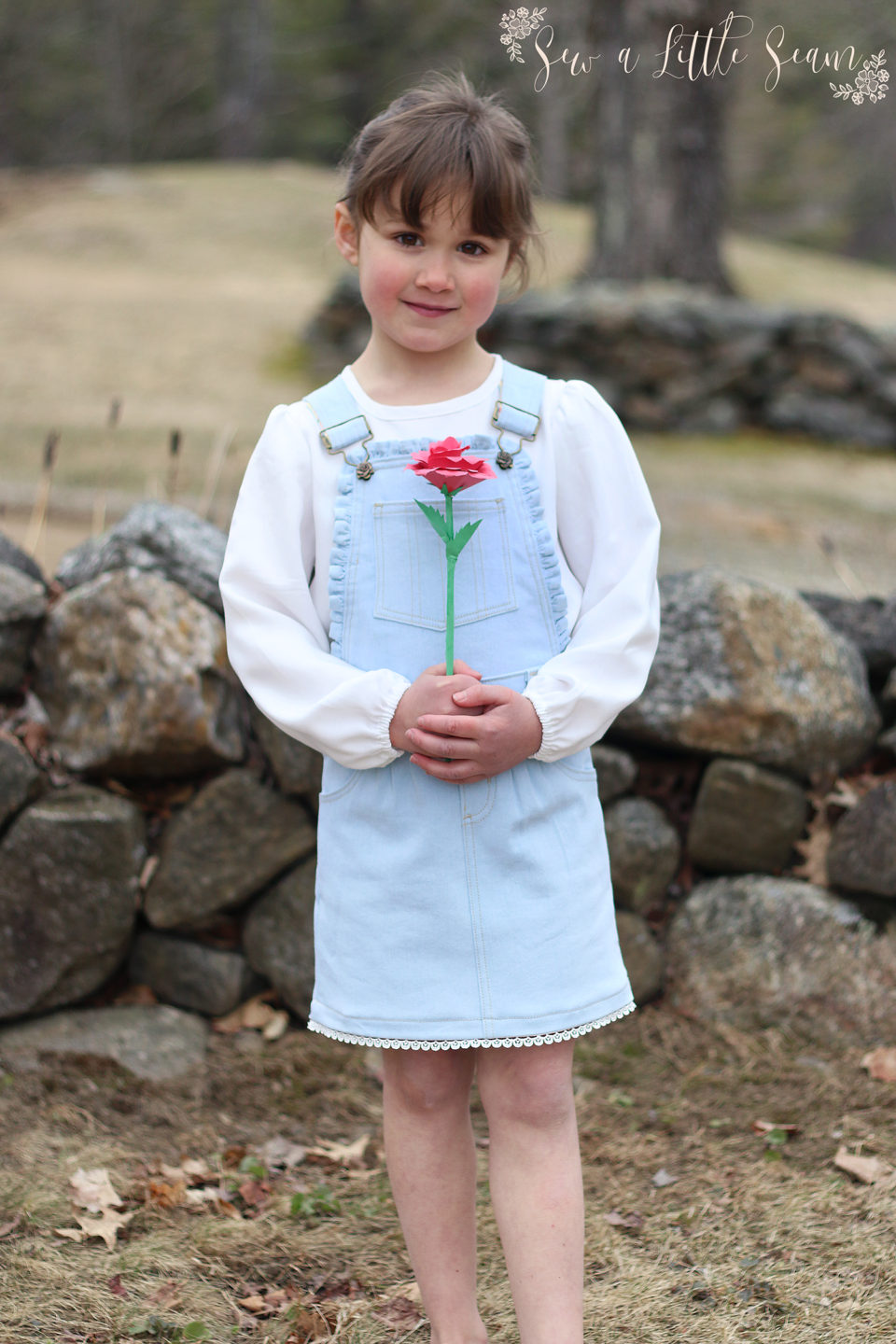 For Belle's look I drafted a denim overall pattern. I've been wanting to design an overall pattern for awhile, so this worked perfectly.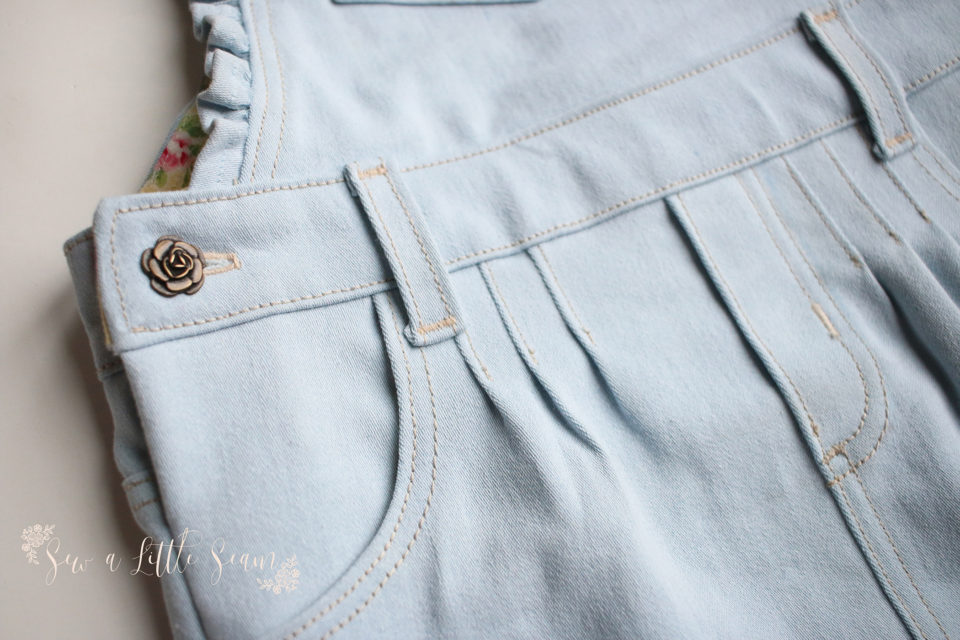 I used a light blue stretch denim. The skirt has three pleats on each side and curved pockets, and the bib has a patch pocket and a cute little ruffle.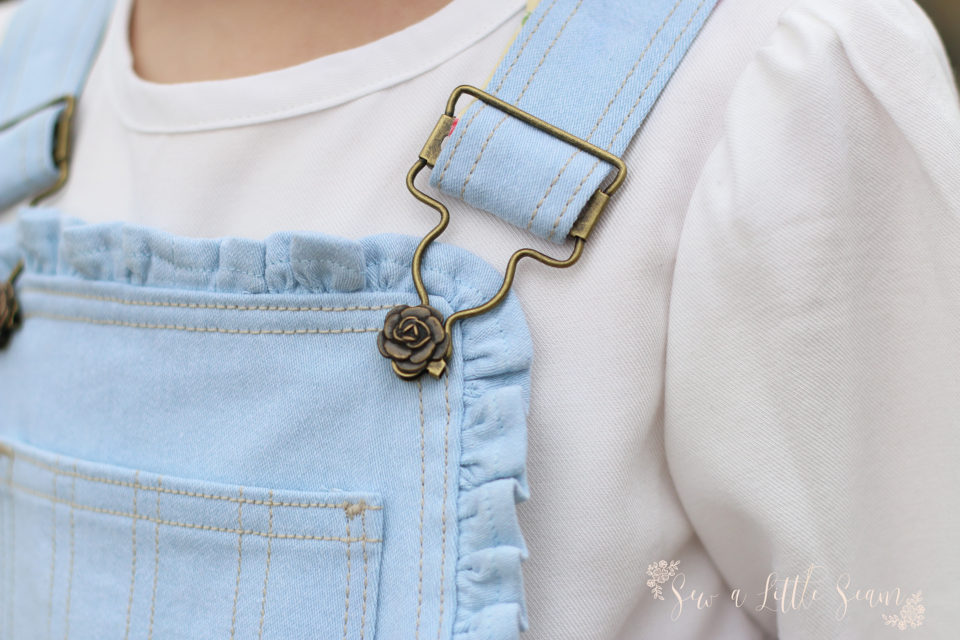 Of course Belle needs some roses, so the buttons on the bib and waistband are antique brass roses. I also used a red ribbon rose on the keyhole of her top.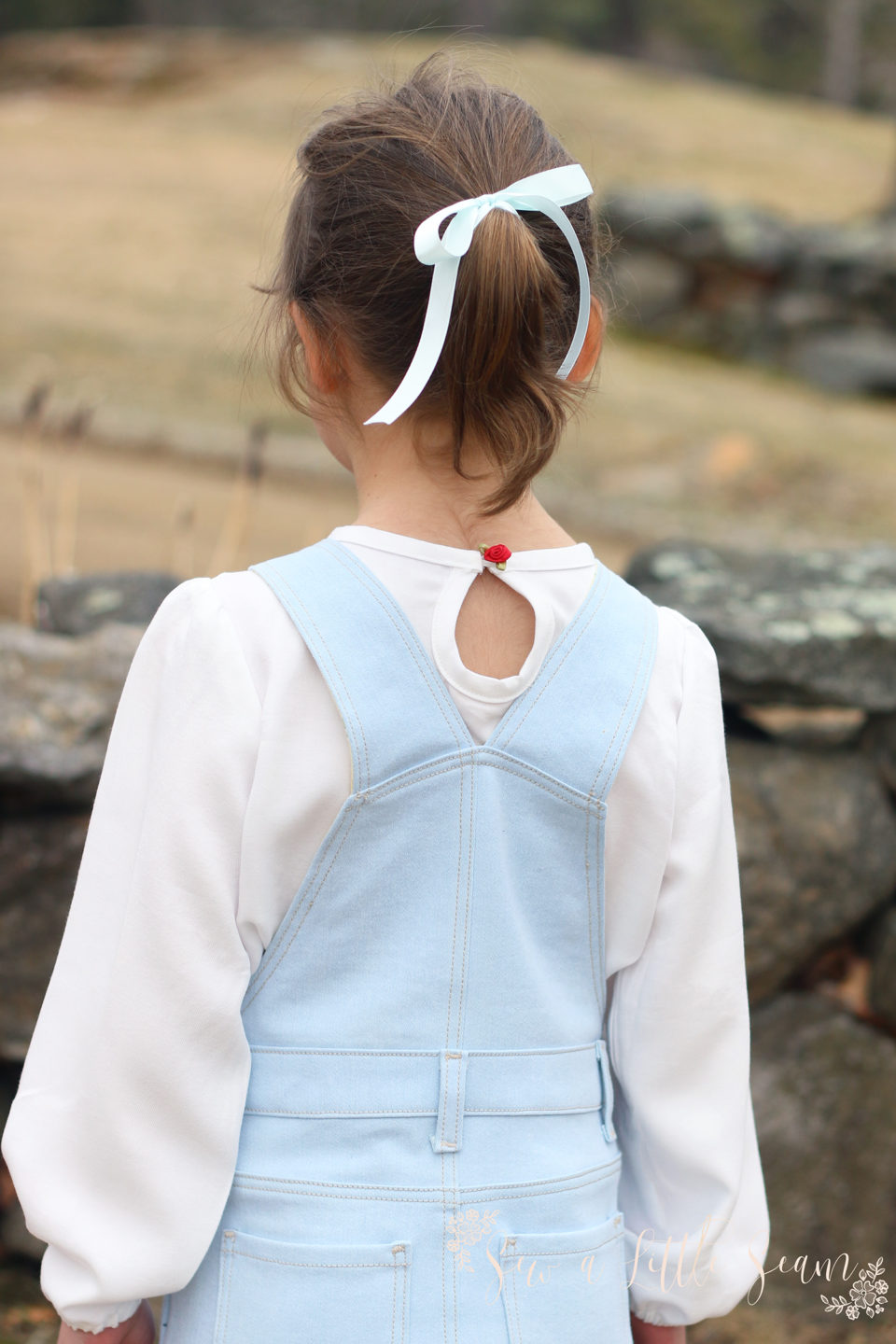 Her top is the Juniper pattern modified to have a keyhole back and the wide sleeves of the Willow pattern. The viscose twill that I used is so nice and soft. The bottom is finished with a pretty leaf trim if she wants to wear it separately.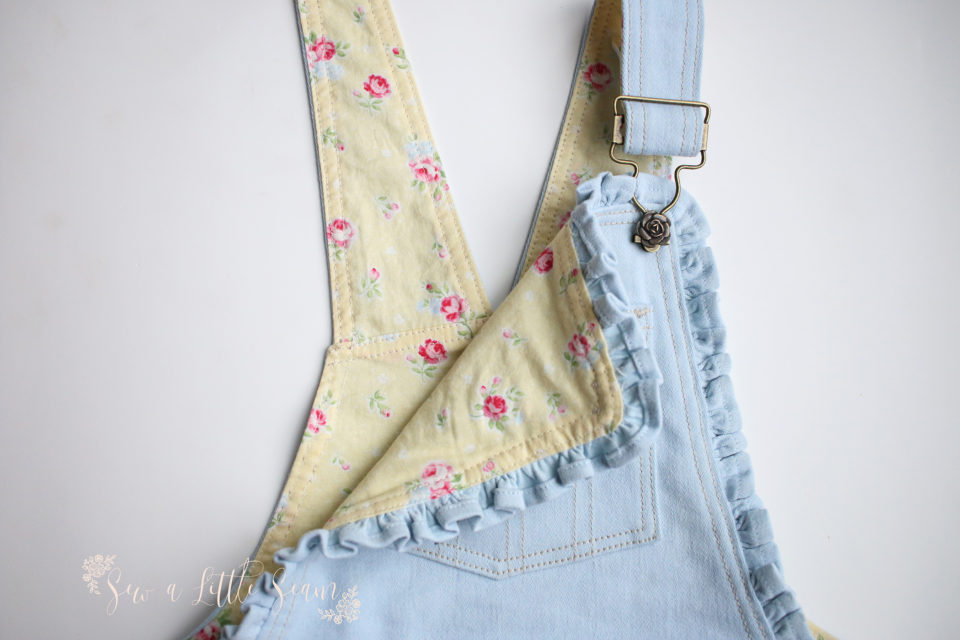 The top of the overalls are fully lined. The roses on yellow reminded me of Belle's ball gown. I also added some white trim to the hem of the skirt like Belle.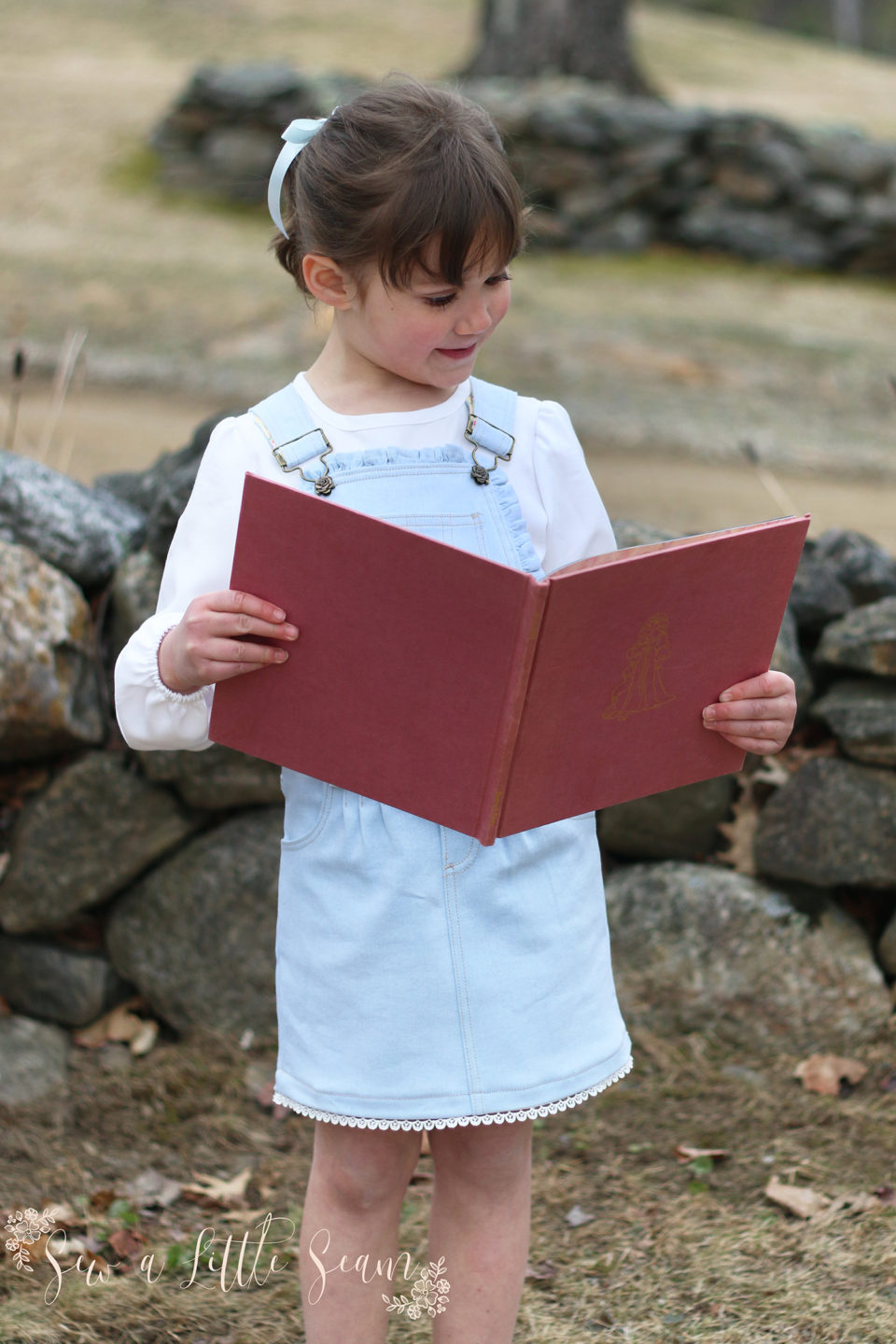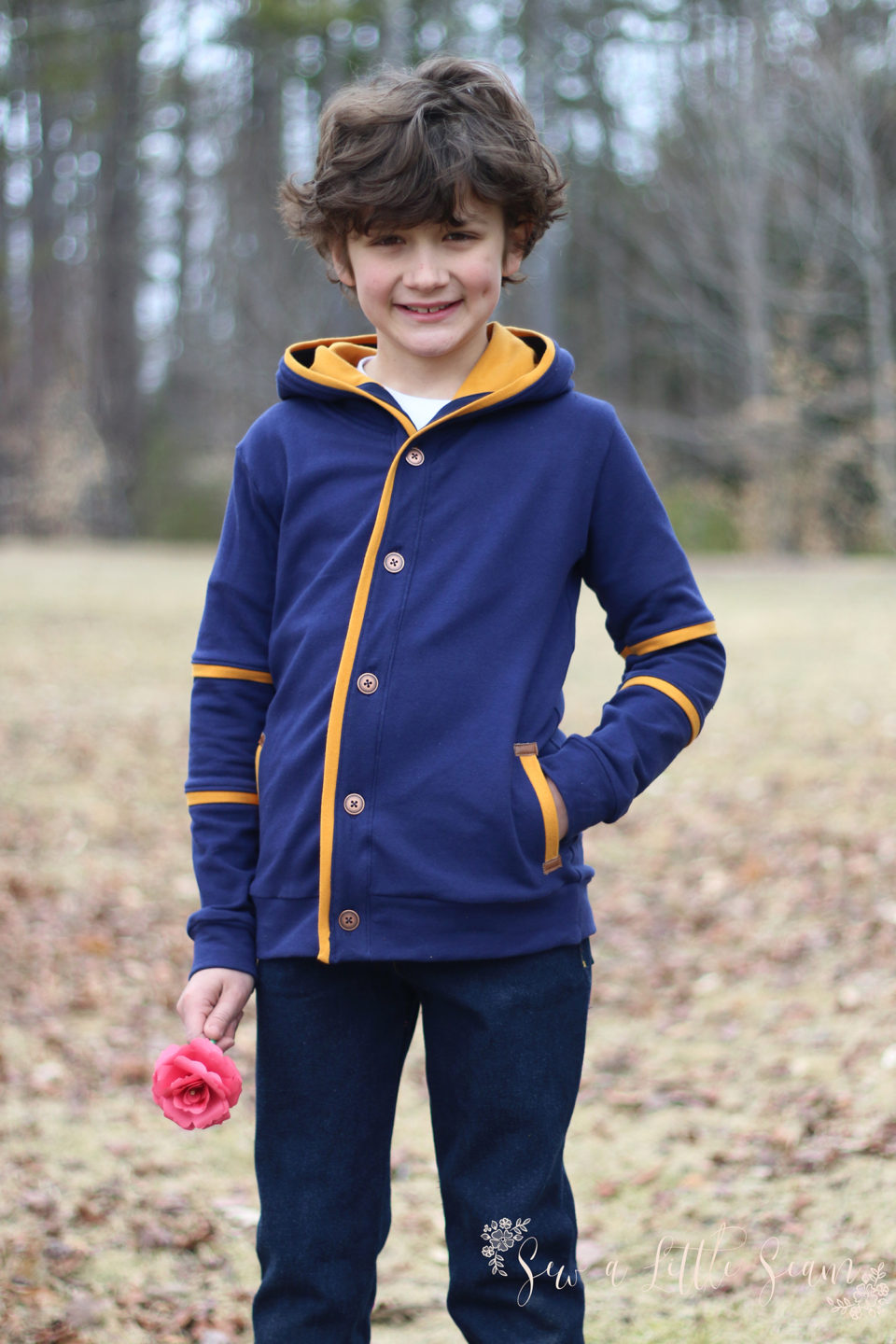 For the Beast's look, I modified the Constance pattern to have a button front with gold trim that wraps all the way around. I really like how these two colors came together.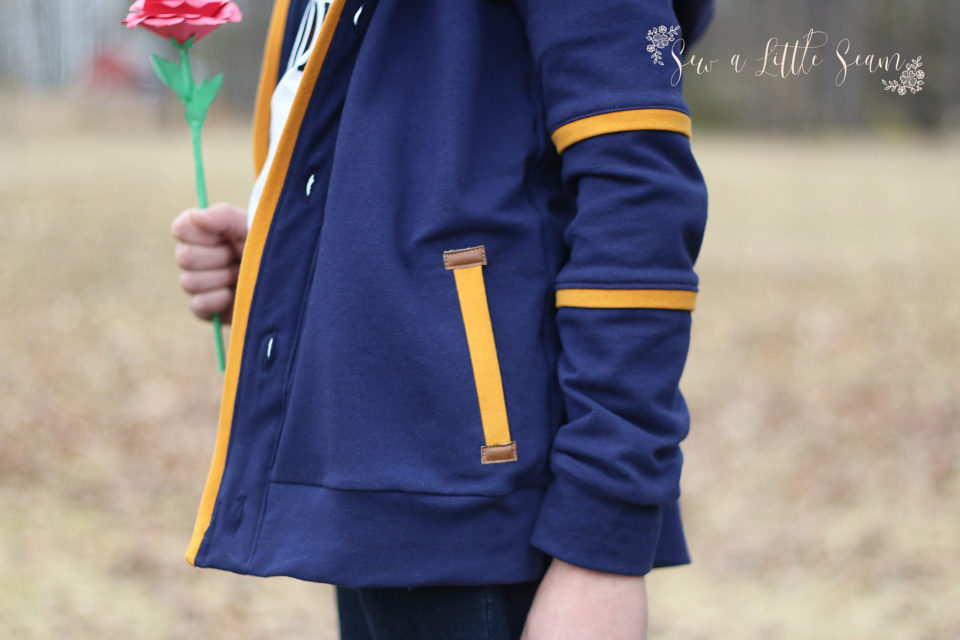 I used the welt pockets from the Ollie pattern, thinned them down a bit and added some leather trim to the edges for a little extra detail. I added gold trim to the sleeves too by cutting the sleeve pattern into thirds, adding seam allowance, and then sewing a strip of gold between the layers.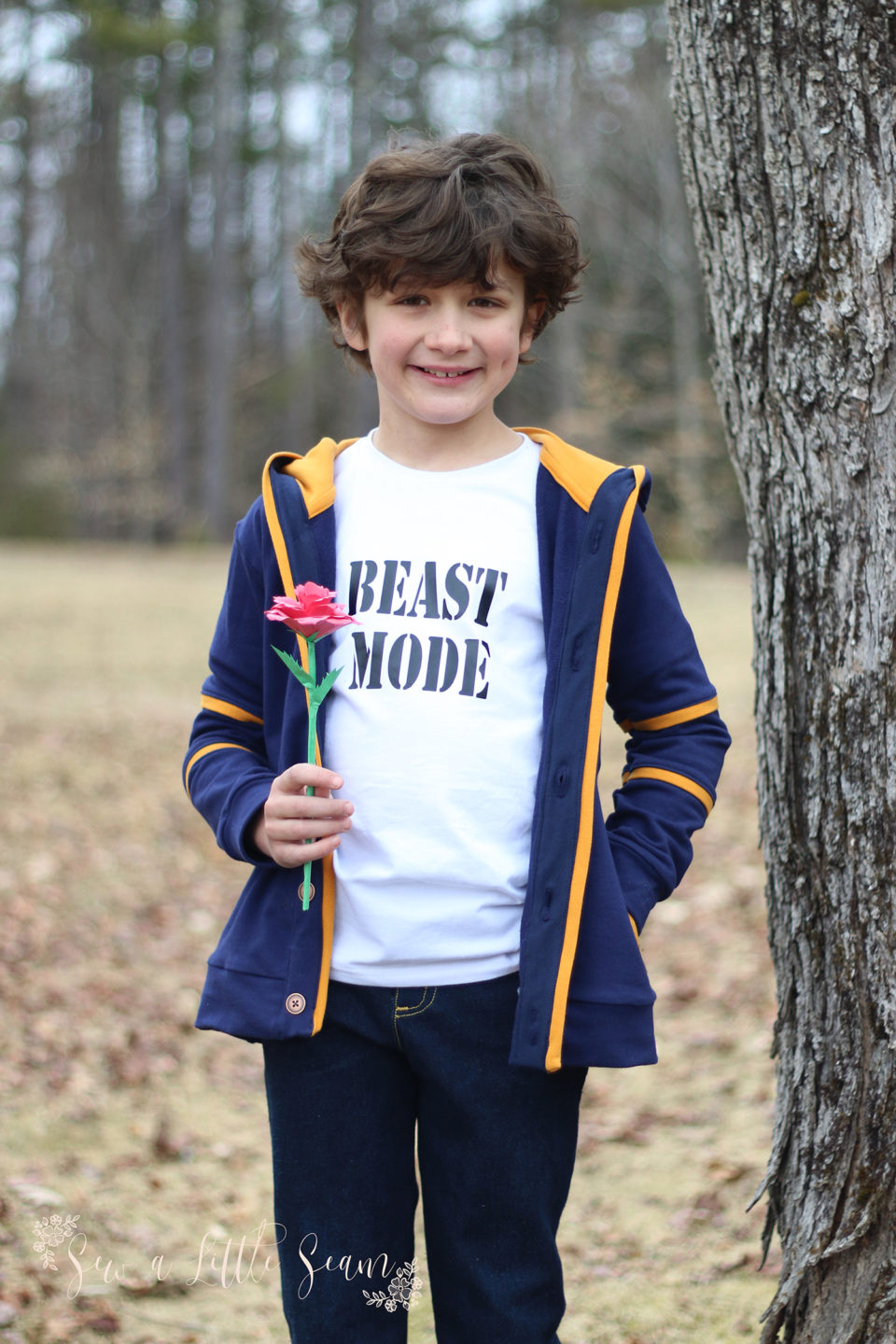 The white tee underneath is also made from the Constance pattern and I added vinyl to the front to say Beast Mode. We also made some paper roses as our art project for the week to use for the photos. I probably would have just went out and bought a fabric rose, but since we can't go to the stores, we made them instead and it turned out to be something fun to do.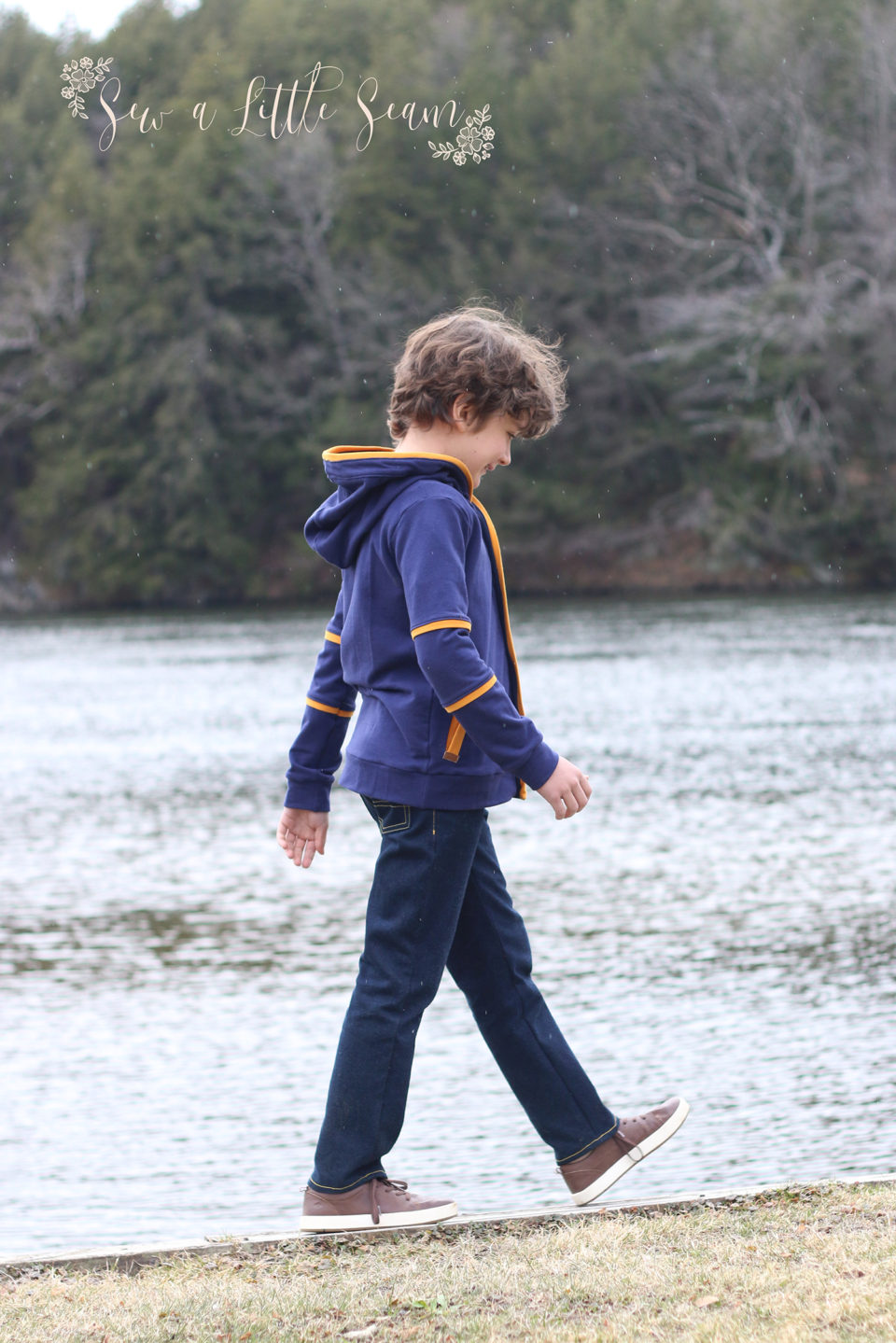 The jeans are the Grady pants pattern. Last week I ran out of time to make my son an outfit, so I made sure this week I made it happen. He has been my biggest support and fan through this. He is so interested in the process and loves when I sew him up things. It makes my heart happy to see the smile on his face.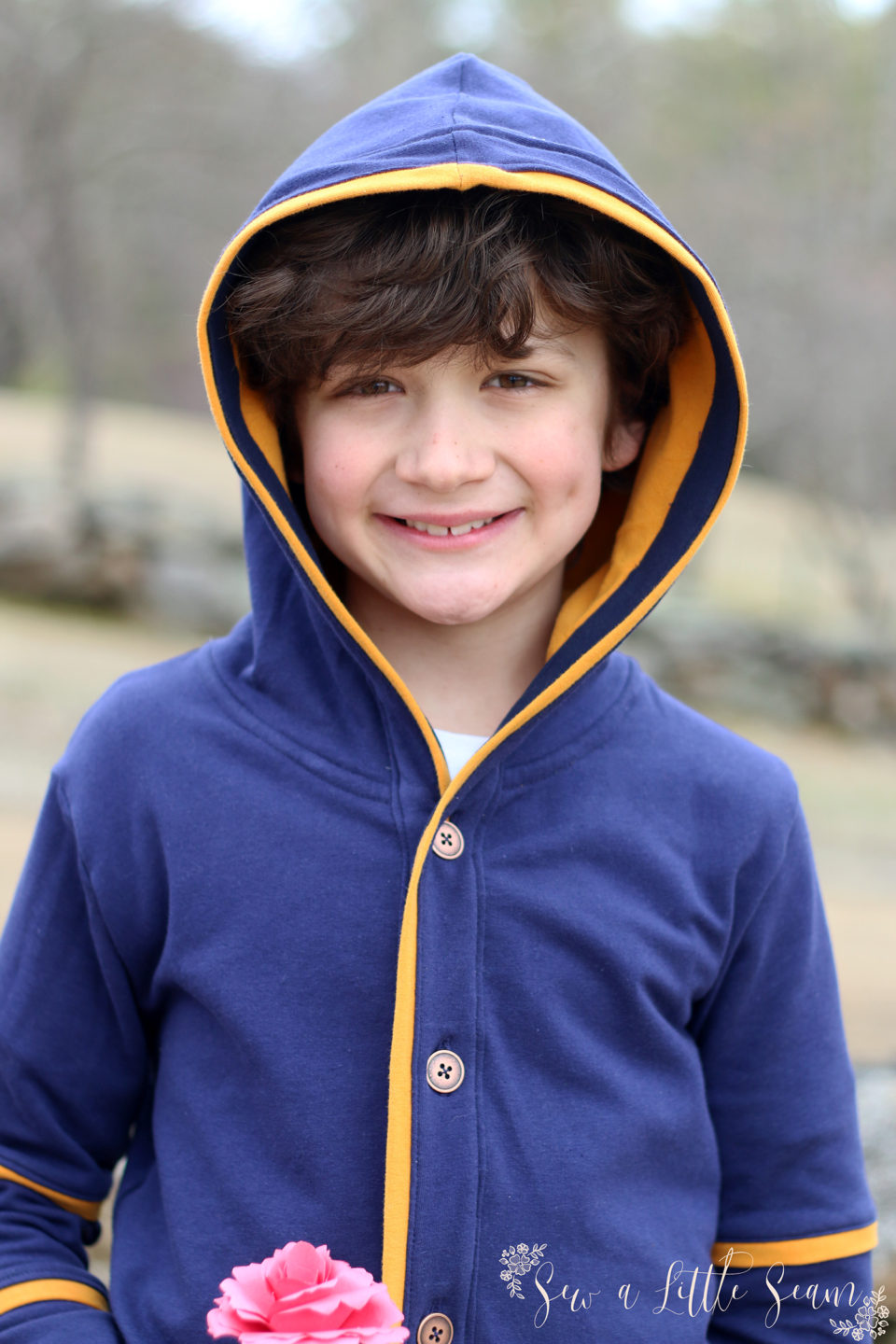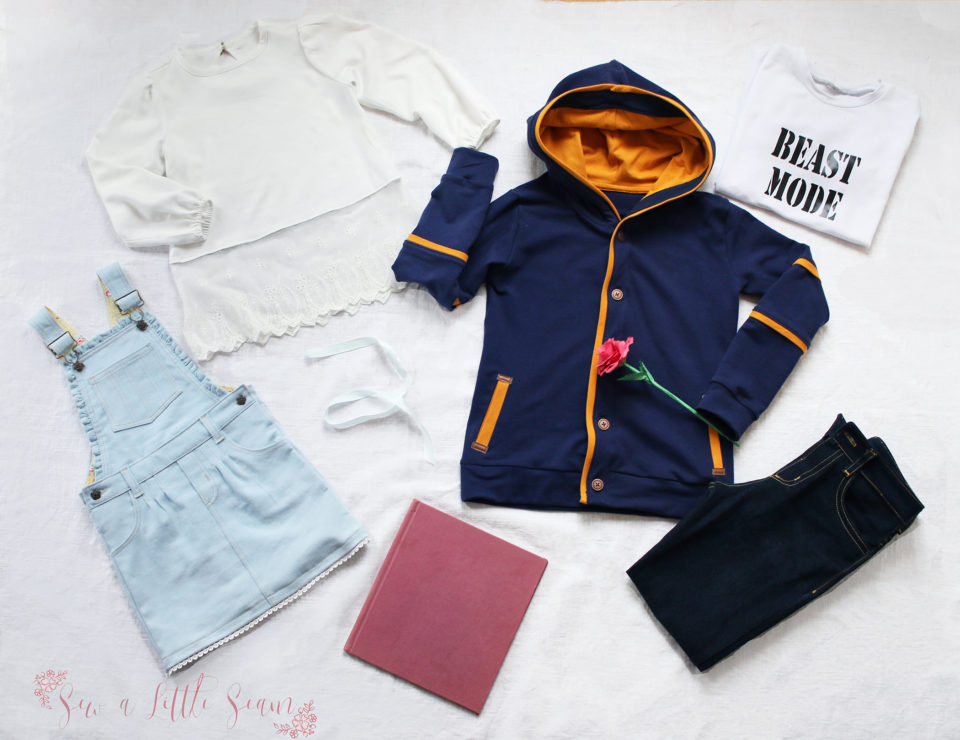 Thanks for reading about my fairy tale look! Make sure you head to Project Run and Play to vote for your favorite two looks!