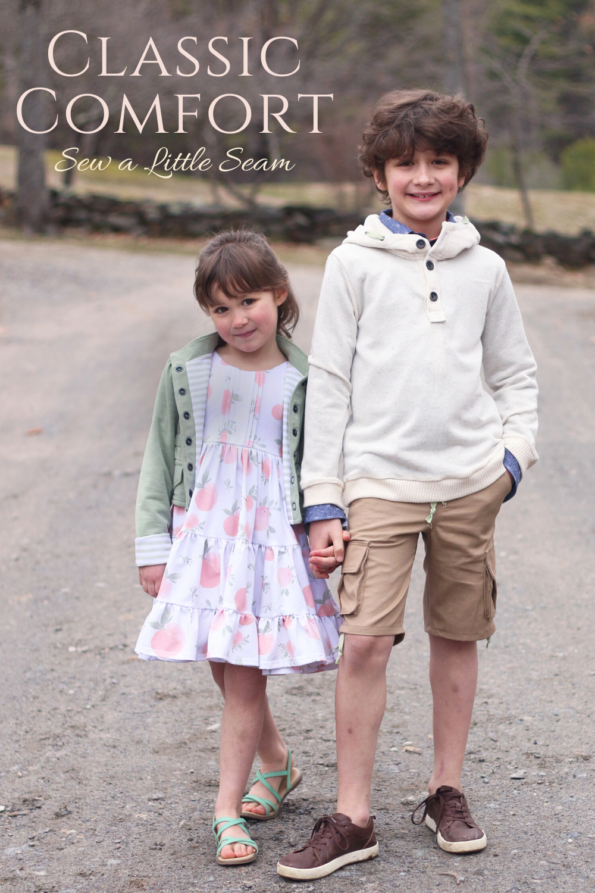 It's the final week of Project Run and Play! I am so excited I made it this far. This has been such a challenging and rewarding experience and I had so much fun! I'm sad that it's coming to and end, but I'm also looking forward to some sleep! Don't forget to vote for your two favorites on the Project Run and Play website!
This week is based off of our signature style. I struggled a bit trying to pinpoint what my signature style is. When looking back at my makes I found that I'm drawn to classic looks with little details to make them unique. I love making comfortable essentials that my kids will love to wear and get lots of use out of.
To finish the look, I made a little striped bag and a pair of hair clips. For the purse I used the striped fabric lined with a peach woven. I cut out a peach from the fabric and fused it to the front of the purse then added glitter around the outside edge. The strap is braided leather trim.
For the clips, I hot glued glitter faux leather to the clips. Then I added a heavy interfacing to the peaches before gluing them on. I finished the edges with glitter glue.
I added grommets and a drawstring to the sides of the hood for a fun detail. I had a thick rib knit that matched the French terry perfectly to use for the waistband and cuffs.
Each pocket is closed with Velcro to make them easy to open. I added a secret pocket at the side seam and also one inside the cargo pocket. My son thought that was really fun! I added grommets and drawstring to the waistband and I also added grommets to the inside hem of both legs to add a drawstring that shows for a little extra detail.