Sew 'n Style Mini Collection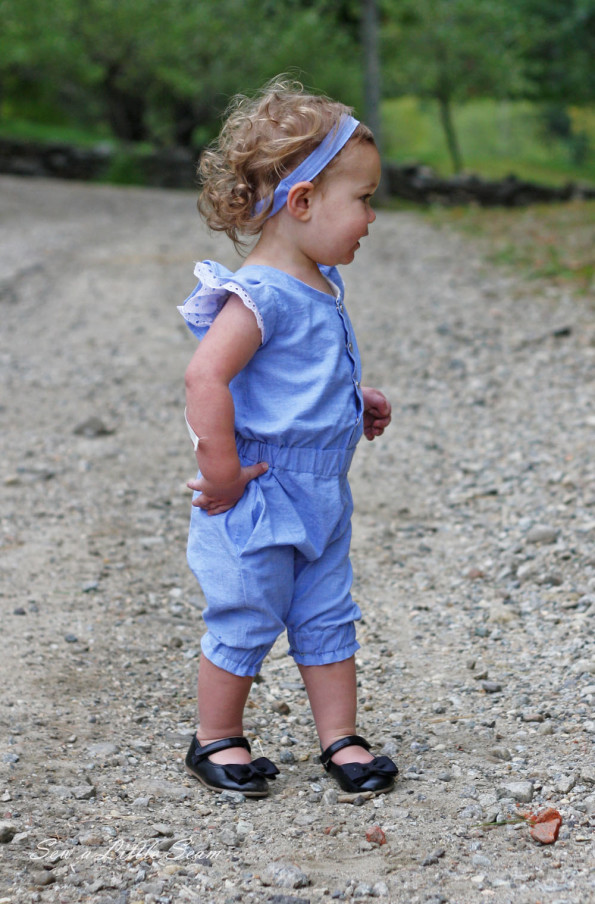 I love the pressure of a deadline, so when I came across the Sew 'n Style contest from Lil Luxe Collections I decided to go for it, even though I had two weeks to create a mini collection. I am in love with her patterns and was super excited to try them out. One of the goals of creating your own collection is to have a cohesive theme, and I had been playing around with the idea of creating Brynn some outfits to wear on our next trip to Disney (yes, I am that person). I wanted them to be cute and comfortable and also something she could wear anytime. So, here is my modern princess.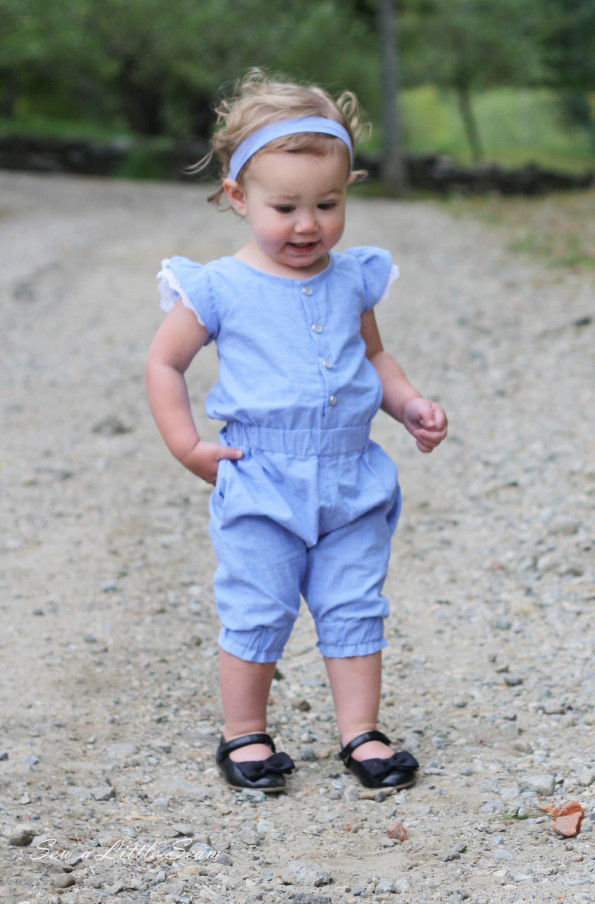 My first look is Belle in her blue dress. You know the one where she sings "Little Town. It's a quiet Village. Every day like the one before" though town? Yes, I could sing the whole song right now, but I'll refrain.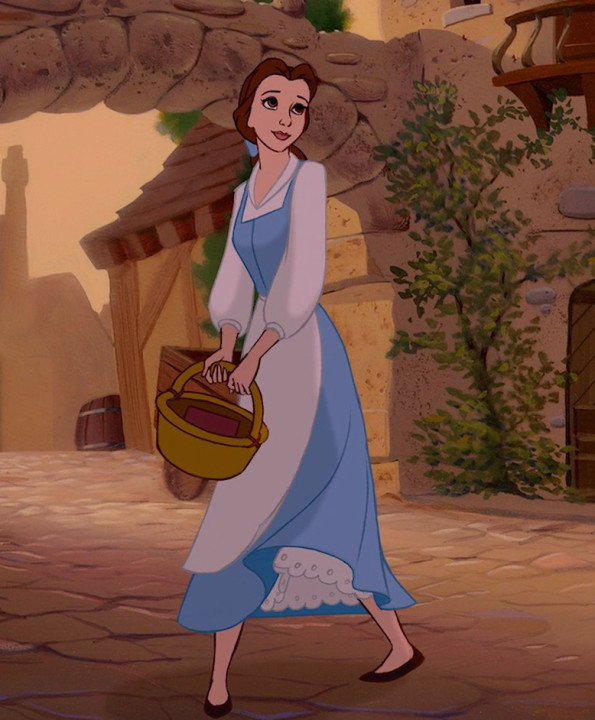 This dress. Ahh, brings back such memories of childhood.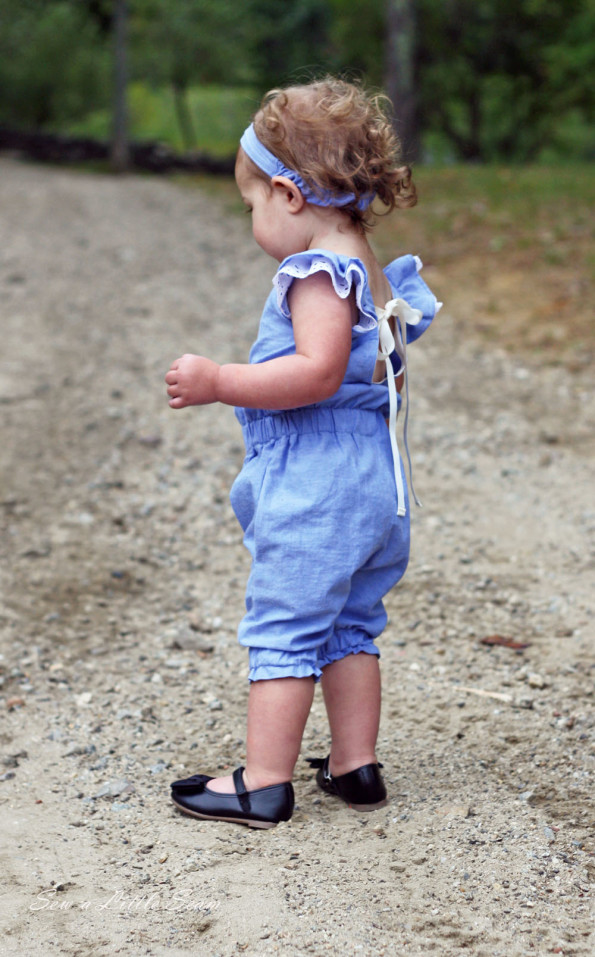 I modified the City Girl Romper from Lil Luxe. First of all, let me say how much I am in love with this pattern! It is so darn cute! I added a button placket to this version and also some flutter sleeves. Instead of lining it, I added bias tape around the neckline and back.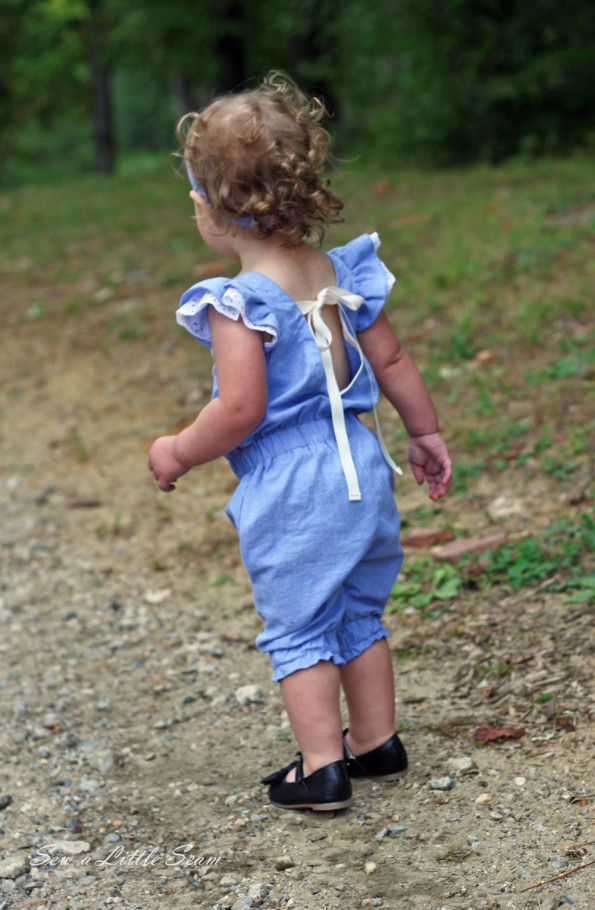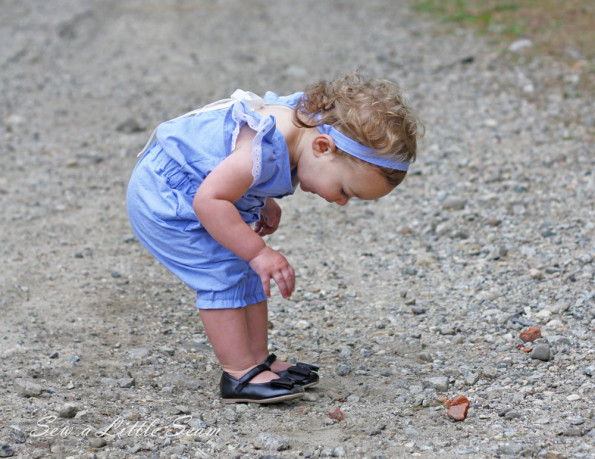 I sewed up a matching headband and went with simple black shoes. Seems it's the shoe of choice for many Disney princesses.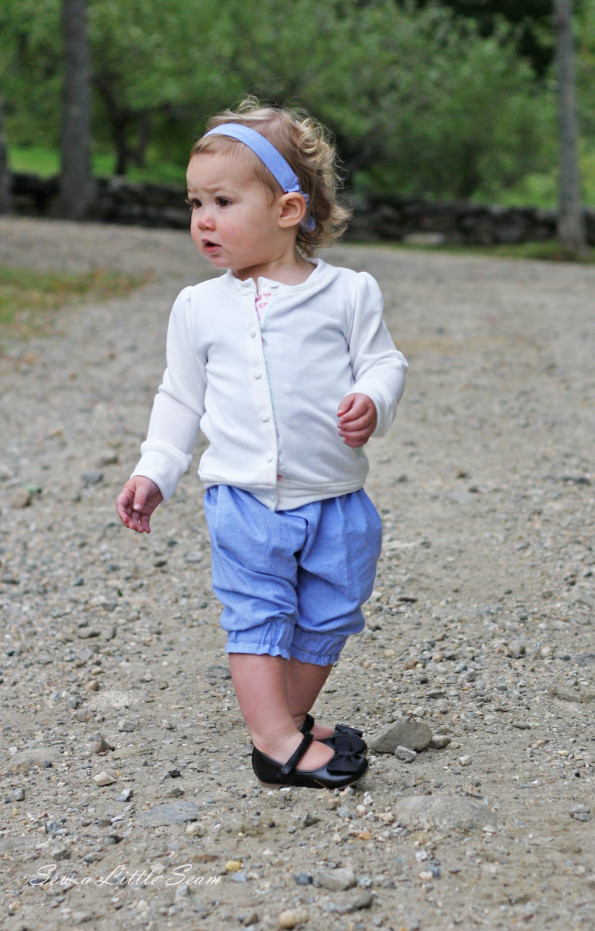 I also sewed up a cute little cardigan in case the weather is chilly. I modified my Brynn Sweater pattern for this and the sweater knit fabric is from Sincerely Rylee.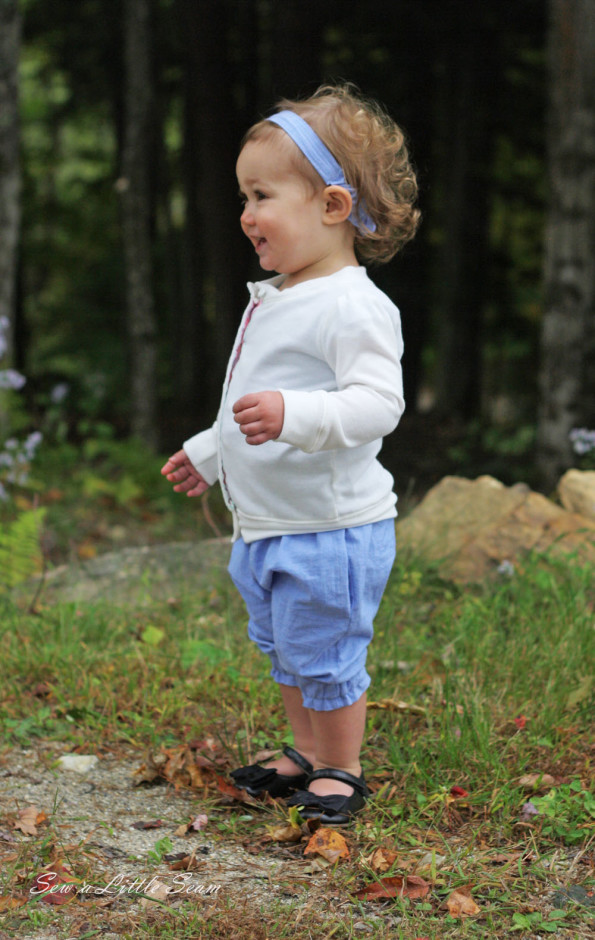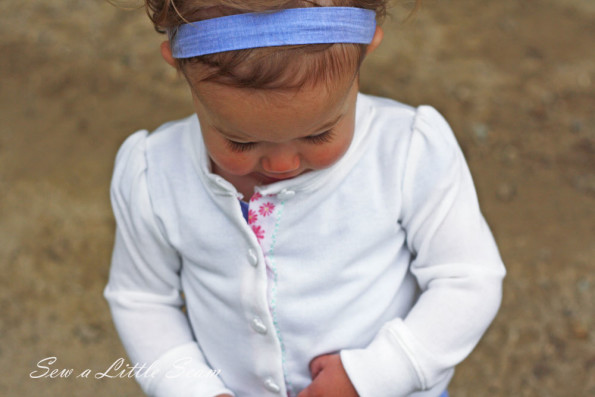 The second look is from my all time favorite Disney move, The Little Mermaid…based off this dress: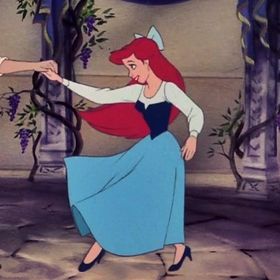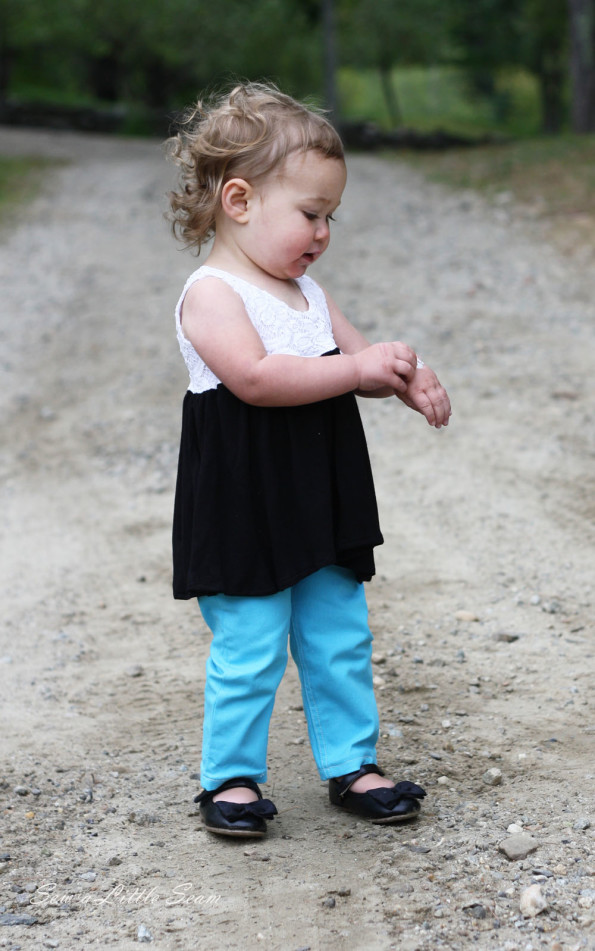 The top is a heavily modified City Girl Romper. I cut off below the arms and added the gathered skirt portion. I also brought the back up and the whole pattern in, since I was using knit instead of woven.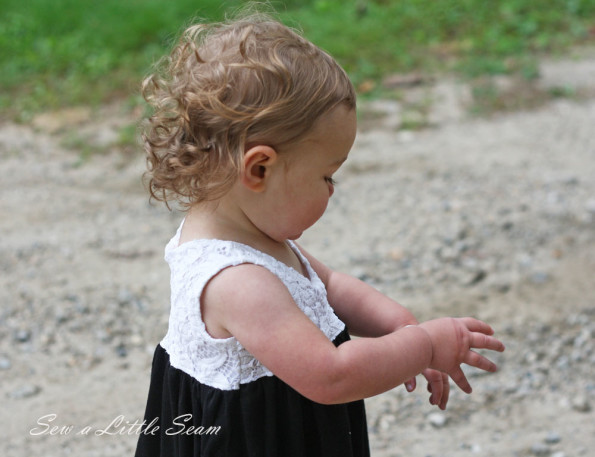 The top portion of the shirt was made with a gorgeous Italian lace from Sincerely Rylee, and the bottom was a cotton spandex blend from Girl Charlee. I made her a little shell bracelet that she found pretty fascinating.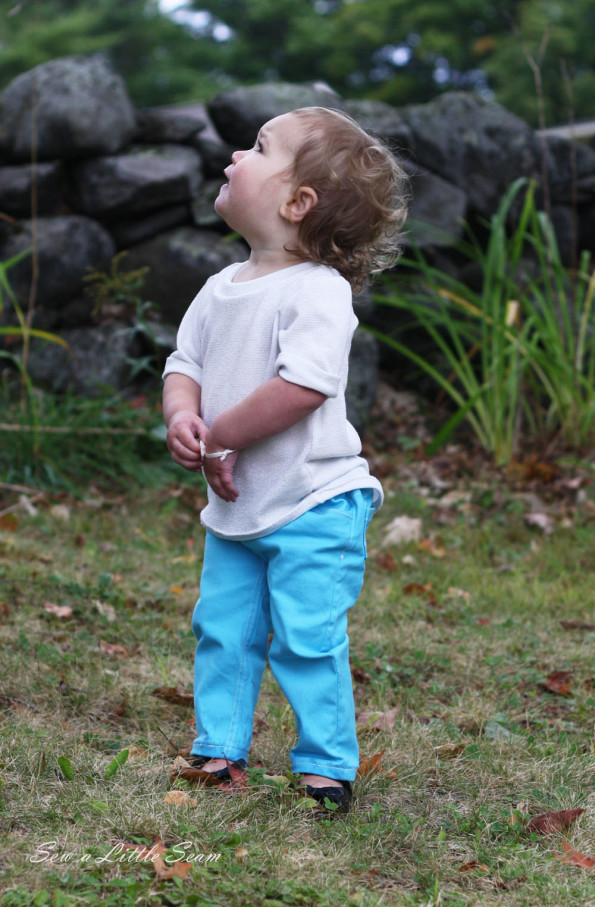 I also made a short sleeve sweater to go over it if needed. I used the Brynn Sweater pattern for this as well, just modifying the sleeve length and the width of the neck opening. The jeans were self drafted using some Girl Charlee stretch denim.
For the third look, we're going to an old school princess – Snow White.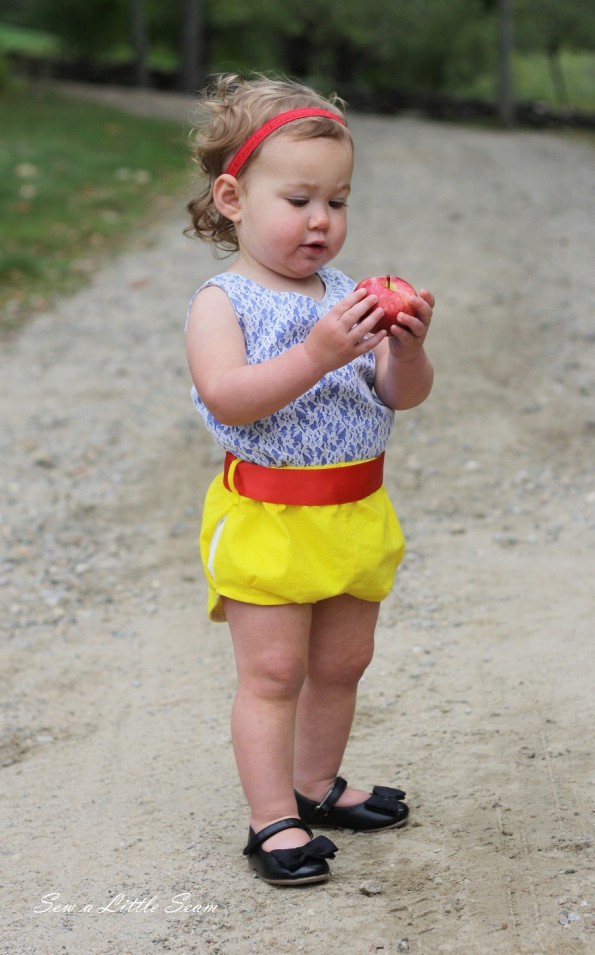 I don't think you need a reference photo for this one, everyone knows what Snow White looks like. Even my husband got it right when I asked what princess this was. This was also the City Girl Romper. Love the options with this pattern!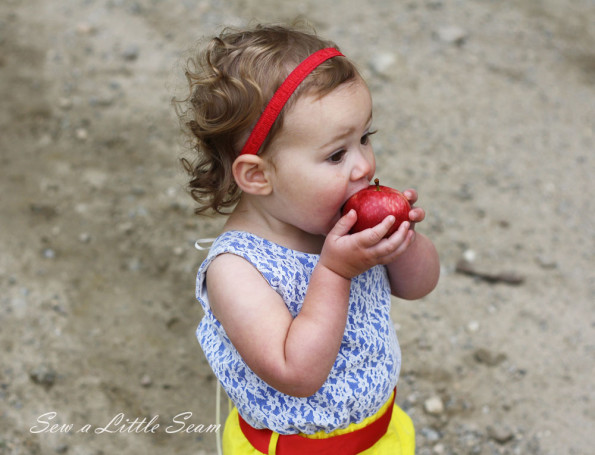 I guess Brynn doesn't know the story of Snow White yet. I'll have to explain the apple deal to her. I added a lace overlay to the top and I also lined the shorts. I really love a lined piece. It makes it look so nice inside and out.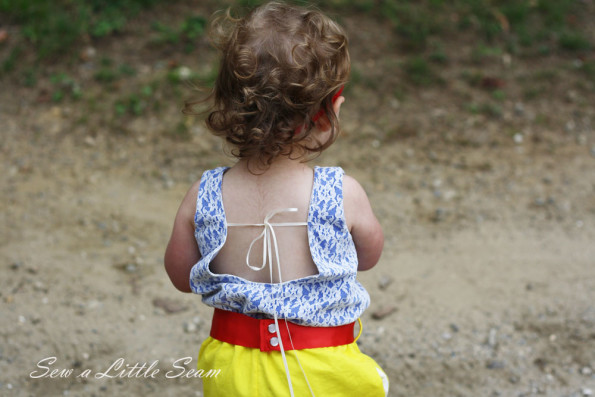 Here you can see her cute little furry back. I sewed up a belt and added some snaps so it could be taken off or switched out if I wanted. I also added snaps to the bottom of the shorts for easy potty breaks. My husband will thank me.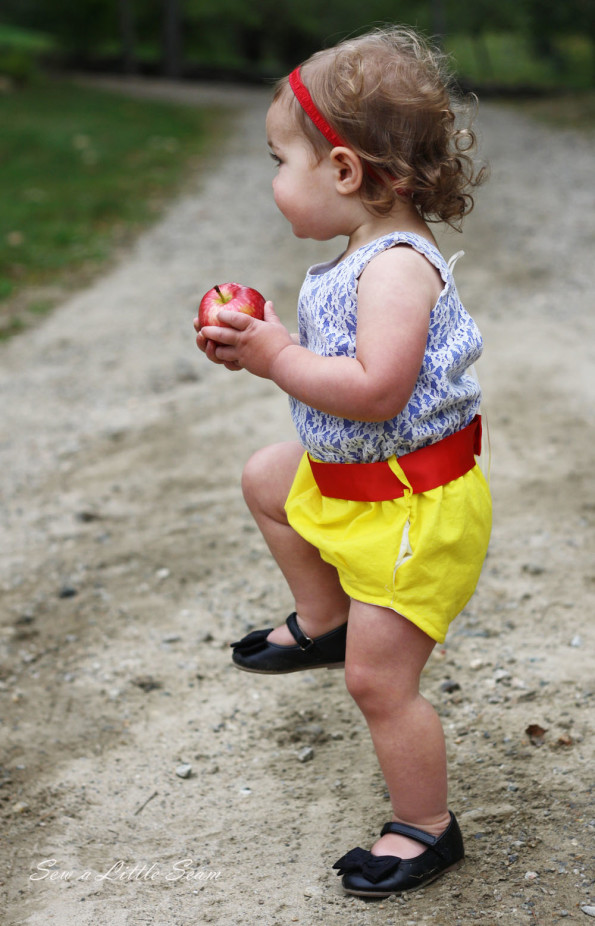 I'm just not sure if it could get any cuter. A ruched, red headband and black shoes are the accessories. I tried on a red beaded necklace, but in a not so nice way, Brynn said that was a no go. Sometimes the model knows best.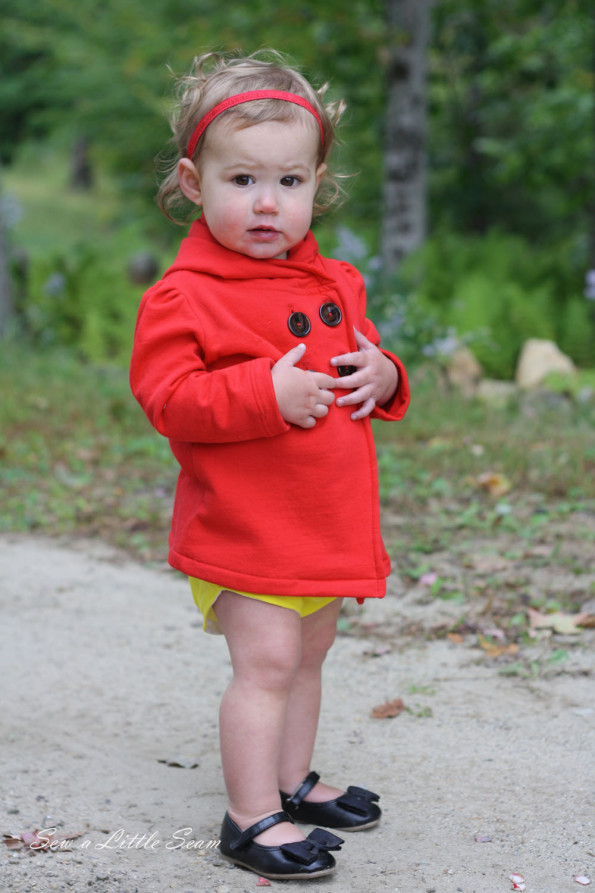 For a layering piece I drafted up this double-breasted hooded sweatshirt. The sweatshirt fleece came from Purple Seamstress.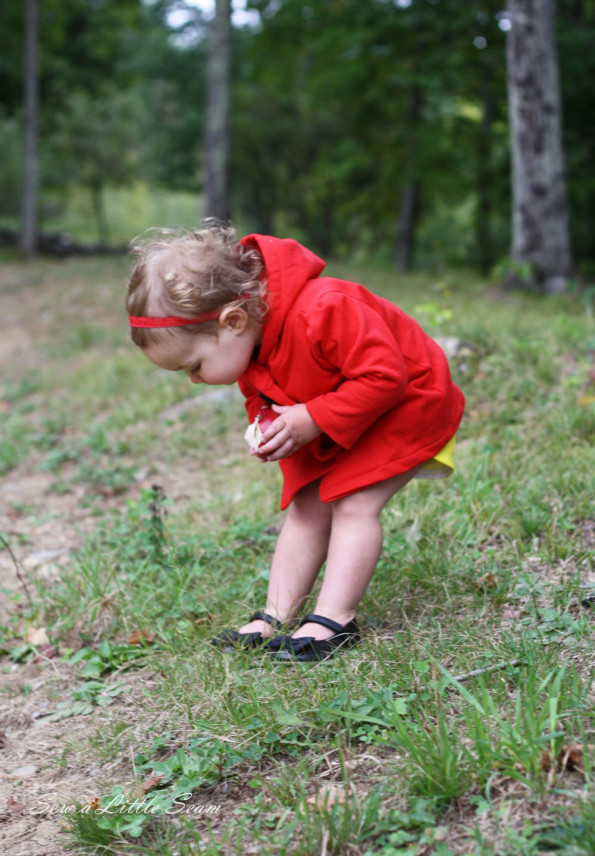 The last look is also a classic. You can't really go with a princess theme and not include Cinderella.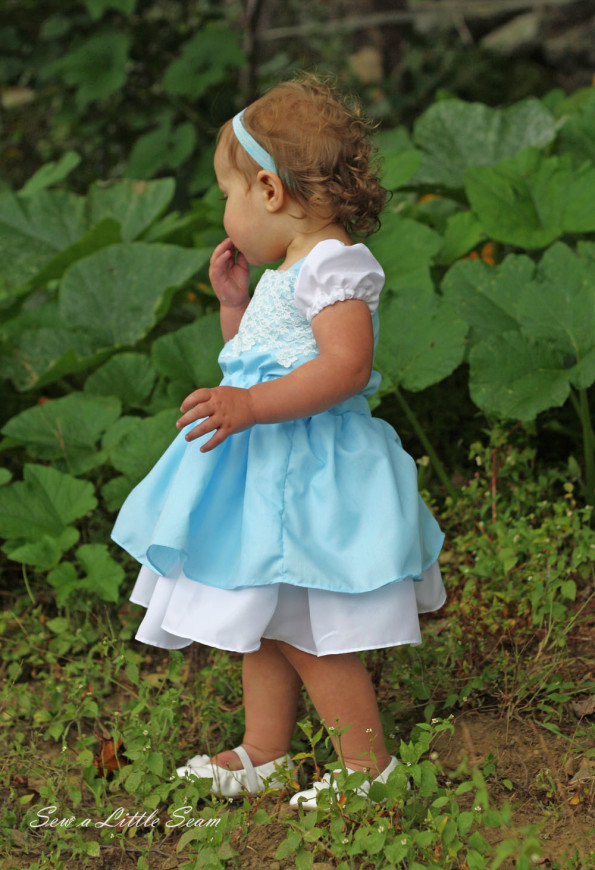 This piece turned out a lot dressier than I had envisioned in my head, but every girl needs something fancy, right?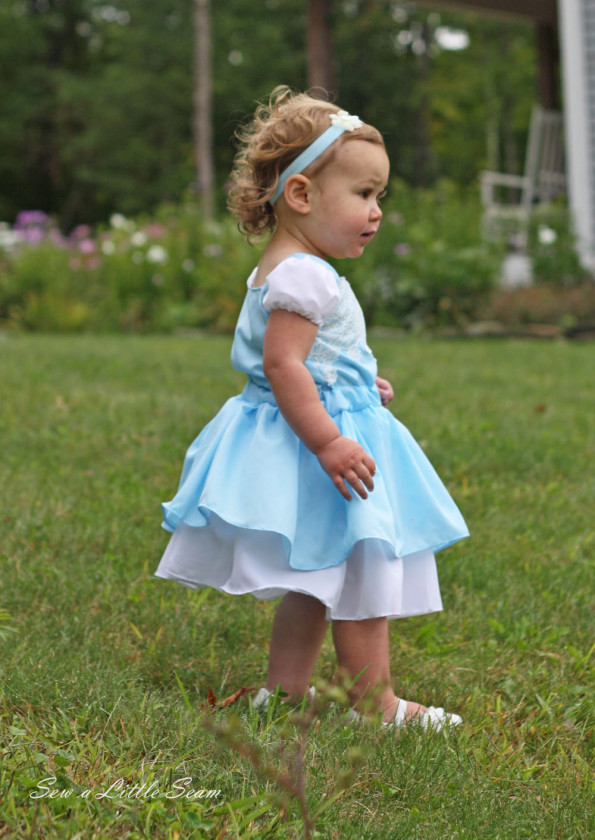 Once again, this is a modified City Girl Romper. I added a puffed sleeve and a skirt and also squared off the neckline. I stitched some lace onto the front of the bodice.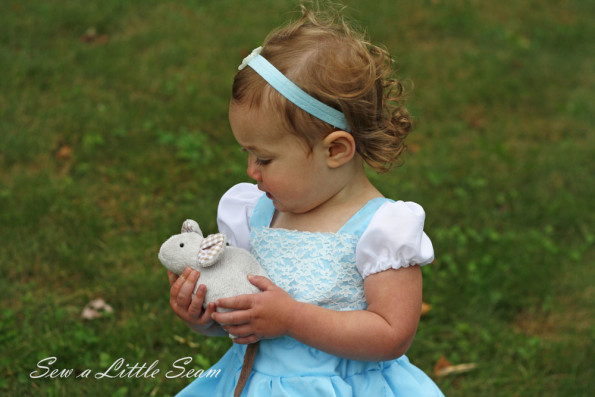 I wasn't sure she was going to wear any of these headbands. She's been boycotting them since she was six months old, but she's getting to that sweet spot where she now understands a good bribe.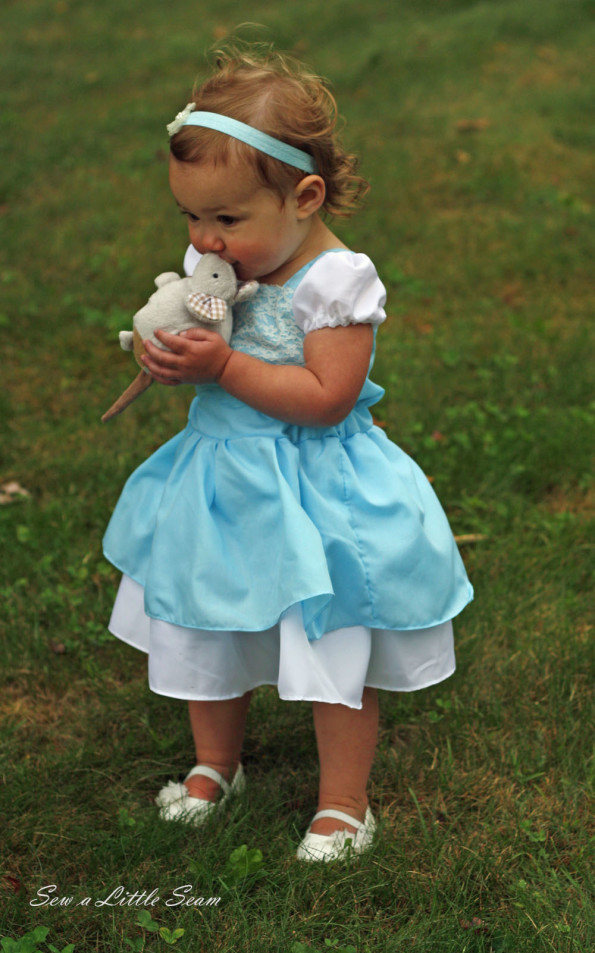 I think she is mixing up her fairytales here, but still looks incredibly cute. The white cardigan goes great with this too.
As a quick wrap up, or not so quick, I'm going to include some photos of the looks and some of their details. If you've made it this far thanks for reading!