Tutorial: Polka Dot Tie Tank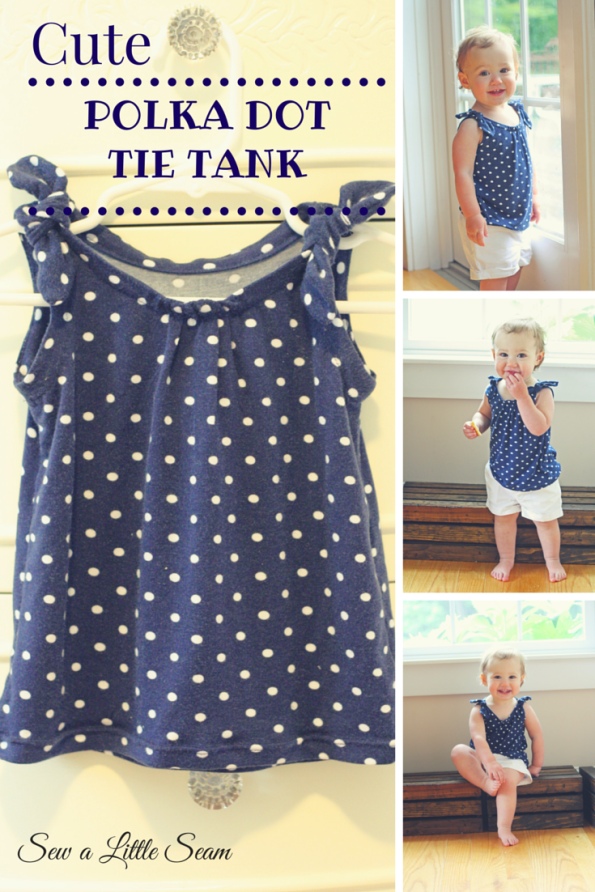 I'm a big fan of polka dots, so when I got this fabric from a Girl Charlee KnitFix I couldn't wait to make something for my daughter. I found a cute little tank from Gap with ties on the top and tried out my own version.
I think it turned out pretty cute, but it might just be my model that makes it.
I mean look at those cheeks. Don't you just want to smooch them!
And if that wasn't enough adorable for you…here's a puppy too. You're welcome.
This was a pretty quick and easy sew. The fabric is a jersey rayon spandex blend and can be a bit tricky to work with since sewing machines tend to want to eat it, but there are some ways around that. You can use a walking foot attachment, or use tissue paper under the fabric as a stabilizer. Also, make sure you don't sew too close to the edge of your fabric.
Here's how I made the tank.
First start off with a shirt that you have that has similar structure to the one you want to create. You can always improvise if you don't have something exact. Fold the shirt in half since we will be cutting on the fold. Draw around the outside of the shirt, sometimes pushing down on the shirt to make sure you are being accurate. When doing the front pattern piece, just tuck the back neckline underneath. As a note, since my daughter is so small I just use regular lined paper, but you can also use cheap wrapping paper, which works nice because of the squares that come on the back of some, or pattern paper that you can pick up from fabric stores.
After tracing your front, you should end up with something like this. Now do the same for the back.
Next you'll want to allot for your seam allowance. I use 1/4″. Just make sure that you stay consistent. in whatever you choose to use. Draw your seam allowance all the way around except for along the fold. (I ended up adding to the fold as well, since I was making a size 18 months, and the shirt I was using was only 9 months.) For the bottom you'll want to leave about 1.25″ for the hem.
Since we want to gather the front of our shirt, add a bit of extra to the neckline on the front pattern piece like in the photo above.
To gather your fabric you'll want to sew a basting stitch along the top of you neckline. To get a basting stitch, adjust your thread length and tension to the largest numbers your machine will allow and make sure that you don't backstitch at the beginning or end.
After you have sewn  your baste stitch, grab a hold of one of your threads on either end and pull until it is where you want it. To figure out how much I wanted to take it in, I lined up the front and back pattern pieces on top of each other, right sides together, so they met at the sides.
Then sew along the shoulder seams and down the sides (shown in blue above).
With knit fabrics you'll want to use a stretch stitch, so that your seams will stretch along with the fabric. I like to use the overlock stitch shown in blue here, but any of the first seven in blue, or a regular zigzag will work. Your machine could also be fancier and have more options than my basic machine. Or if you are really lucky and have a serger, than you know what to do.
Once you've sewn your seams, you'll need to finish off your neck and arm holes. To do this you'll need to make some bias tape. First figure out how wide you want your bias tape to be and then double it. I wanted my finished bias tape to be 1/2″, so I cut a one inch strip long enough to go around the length of the arm hole, plus a bit extra. Next, you will fold the two sides together until they meet in the midddle and press with your iron, down the length of the strip.
Once you have your bias tap made, unfold one side and lay it right sides together overlapping your armpit seam by a 1/2″ or so. Pin all the way around until your ends meet at the seam under the arm.
You will want to sew the ends of the bias together where they meet along the edge of the tank. To do this I put in a pin to mark where I want to sew and then pull back the edges of the tank so I don't accidentally sew into the side of it while sewing the bias tape together. I place the bias tape under my foot, and then pull out the needle and sew the tape together.
Once your bias tape is sewn together, sew an 1/8″ from the raw edge.
Then flip your bias tape right side out and topstitch 1/8″ along the seam edge.
Next, turn your shirt inside out, and fold your bias tape along the seam and tuck the raw edges under until they meet. Then stitch 1/8″ along the inside.
Repeat for the neck, matching seams at the shoulder this time.
To make the bow, cut out two shapes similar to this and sew almost completely around, leaving a small area in the center unsewn, so you can pull the fabric through so the bow is right side out. Then top stitch along the opening, to close the hole.
Lay your bow under the shoulder strap and sew as shown above. You can then tie them in a knot. To finish, hem your shirt using a stretch stitch or a double needle, and you are all set.